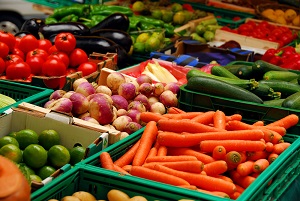 Looking for a local source of wholesale produce and other foods direct from the farms, orchards, dairies ranches and producers Los Angeles area of California? Scroll down this page and you will see the aall of thoses in Los Angeles area of California, sorted by county. Those offering organic or sustainably grown produce are identified by the words "organic" and/or "sustainable" in Green, next to their name. If they have a website, the name will be in blue and underlined; click on it and it will open their website.ALWAYS call before you go to confirm the info, they don't always report changes to me!
And if you know of one I missed and want to add it or correct the information, please let me know!
Updates for January 2019
January In the U.S. fall and winter crops like winter squash and apples are still available, but remember, you often need to make bulk orders a season (or 2 ) in advance. So, right now, orders for Spring crops are being taken.
Wholesale food producers, by county
Click on Resources above, if you need a county map
Los Angeles County
CJ's Organic Farm - Local sales at our farm, Local delivery, some produce is sustainably grown, all produce is sustainably grown, Wide variety of seasonal fruits and vegetables, apples, asparagus, apricots, beans, beets, blackberries, blueberries, broccoli, carrots, cherries, corn (sweet), cucumbers, eggplant, figs, flowers, grapes, herbs/spices, lavender, lemons, melons, nectarines, onions, other berries, pears, peas, peaches, peppers, persimmons, plums, pumpkins, raspberries (red), raspberries (Spring, red), raspberries (Autumn, red), raspberries (yellow), raspberries (Spring, yellow), raspberries (Autumn, yellow), raspberries (black), raspberries (Spring, black), raspberries (Autumn, black), rhubarb, summer squash, winter squash, strawberries, tomatoes, other vegetables, walnuts, Fresh eggs
10050 East Avenue, Little Rock, CA 93543. Phone: 818-800-6644. Alternate Phone: 818-800-6646. Email: cjsorganicfarm@gmail.com. Open: At the four point swap meet every Sunday from 7 am to 2 pm; Available on Saturdays by appointments at the swap meet; Monday through Friday from 7am to 5 pm at the farm by appointment only; We are really busy at the farm, we do enjoy having visitors but we must insist that you call a head of time and let us know you are coming; Thank you. Directions: On the corner of 101st street. Call if you need directions. Click here for a map and directions. Payment: Cash, Visa/MasterCard. Click here for our Facebook page. We offer free organic-heirloom gardening classes. We deliver weekly food baskets of fresh harvested fruit and vegetables from the farm. We accept PayPal payments. Most of the items grown are heirloom varieties. We grow everything organically. We have over 200 different kinds of herbs.